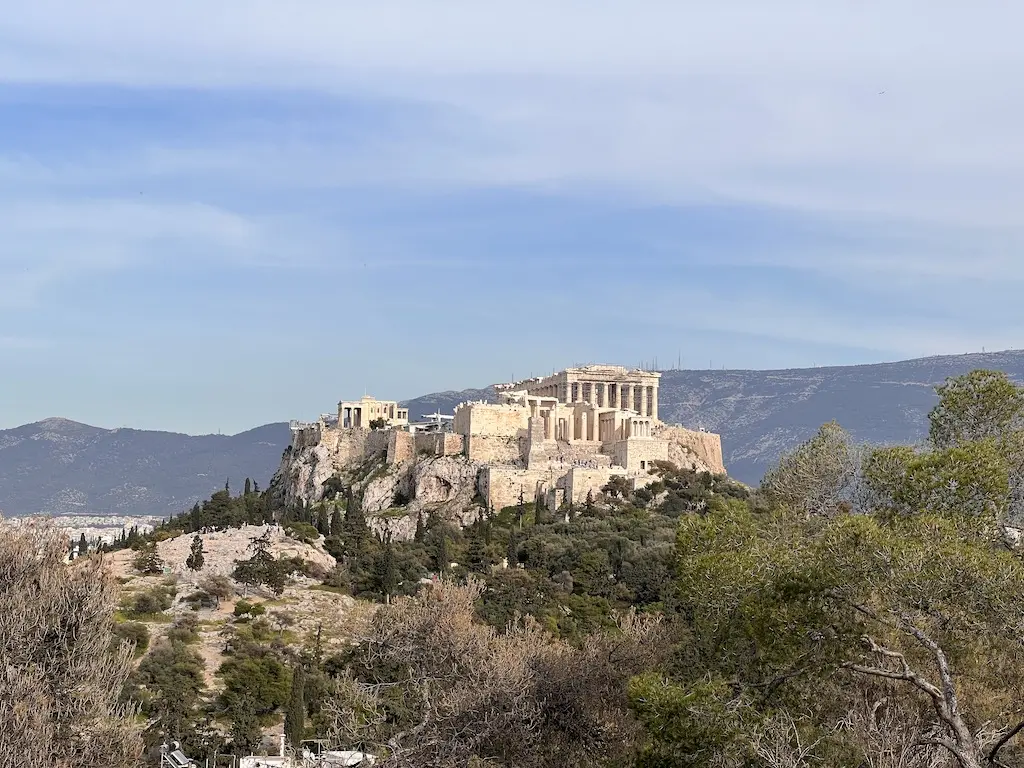 Best of Athens & UNESCO Sites.
Luckily, the City of Athens is a manageable & easy destination to visit in one day, with lots of attractions concentrated in a fairly compact area.
Its central vibrant neighbourhoods are dotted with ancient ruins, so you can enjoy a cocktail in one of super cool bars one minute and be visiting another awesome Unesco archeological site the next.
Either staying for one night before setting off for some epic island hopping, or visiting for a few hours straight from your cruise-ship in Piraeus Port, our Best of Athens Tour will get you covered.
This full-day private tour in Athens includes a blend of historical and archaeological museums, sites, and artifacts that cover the entire history of the city and much more.
The Acropolis (The Parthenon, Propilea, Erechthion, Temple of Athens Niki, the Odeon Theater, the Dionysus Theater, the Areopagus), the Temple of Olympian Zeus, the Panathenean or Kalimarmaron Stadium (that hosted the first modern Olympic Games in 1896), the watch of the change of the guards in front of the Greek Parliament, the Tomb of the Unknown Soldier, the Ancient Greek Agora as well as the Roman Agora, the Hadrian Library, Plaka (the old city of Athens), the National Archeological Museum and finally the Acropolis Museum are some of the most prominent UNESCO sites which are included in this epic Best of Athens Tour.
A visit at the flea market or Monastiraki along with a stroll in the biggest open market of Varvakeios make up for a great day in Athens, the Global City of Democracy & Philosophy.
Type: Culture & History Tour
Suitability: Singles, Couples, Families, Groups
Location: City of Athens & Historical center
Duration: Half or Full Day
Sights & Activities: All Unesco Sites in Athens, Monastiraki, Plaka, Syntagma Sq (Constitution Sq), Varvakeios Open Market
Cost: From 200 EUR per person
Availability: Upon Request
Please read carefully our Terms & Conditions before booking.
#Athens #VisitAthens #PrivateTour #Greece #UNESCO #FoodTour #Acropolis #History #AncientGreece
What is included
Professional English speaking tour leader
Snacks & water
Private transfer in a 9 seat mini van (A/C, WiFi, leather seats)
Hotel pick up & drop off
Petrol, toll fees, parking fees & taxes
Licensed guide can be arranged with an extra charge (200 EUR)
What is NOT included
All meals and drinks (visiting local restaurants and food arrangements can be organised though without extra charges)
Travel Insurance
Flight tickets to/ from Athens (We strongly advise you to check www.swoodoo.com the best flight tickets search engine, for the best airfare deals.)
Whatever has not been mentioned clearly
Entrance fees (Please click here to learn more)
Important notice
For your own personal safety & peace of mind be extremely aware of very low cost tours and offers. The companies offering them may be operating illegally.
Make sure that the tour company you select is registered under the Greek National Tourism Organization & Ministry of Tourism. All legally operating tour companies is mandatory to carry a license number.
Our GNTO NUMBER is: 1351E81000034001.