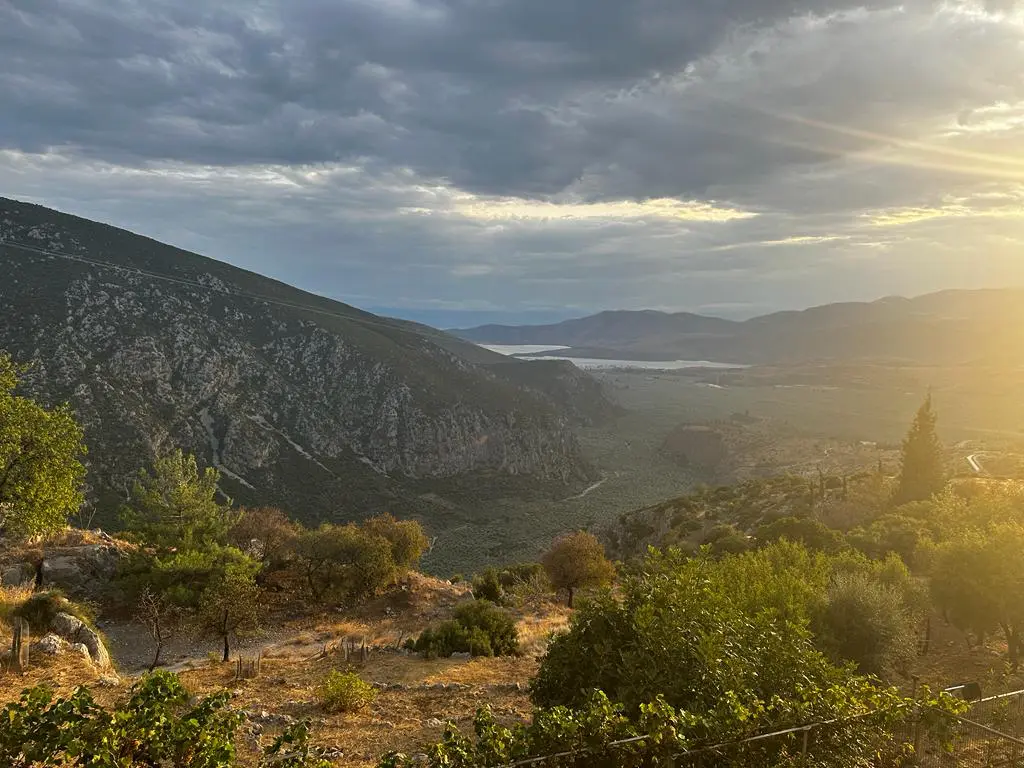 Delfi Historical Tour & Hot Springs.
Delfi historical site is located at the foothills of Mount Parnassos, in Central Greece. Delfi historical tour is one of the highlights of your visit in Greece. Delfi was considered the center of the universe by the ancient world and was therefore called the naval of the earth.
According to the Greek mythology, Zeus sent two eagles from the edges of the universe to spot the omphalos (the naval of the world), and this is the place where they met.
Delfi is one of the most important archaeological sites in Greece, comparable only to the Acropolis of Athens. The Oracle of Delphi (an UNESCO World Heritage Site) was for centuries the cultural and religious centre of the world, having the most famous oracle in Ancient Greece. The imposing natural surroundings along with the superb monuments constructed, blend in perfect harmony, giving rise to the organization of the cults.
The visitors will have the chance to check among others, the Temple of Apollo, the Archaeological Museum of Delphi, the Ancient Theater of Delphi, the Treasure of the Athenians, the Sacred Way, the Castalia Spring and the Dome of Athena Pronea.
On top of our visit to Delfi, the tour can go through Thermopylae where the The Battle of Thermopylae was fought in 480 BC between the Achaemenid Persian Empire under Xerxes I and an alliance of Greek city-states led by Spartans and Leonidas.
Besides that, Thermopylae is a narrow pass in Central Greece & derives its name from its hot sulphur springs. In Greek mythology the Hot Gates was one of the entrances to Hades (the underworld).
Type: Culture & History Tour
Suitability: Singles, Couples, Families, Groups
Location: Central Greece
Duration: Full Day Trip
Length: app 400km (250 miles) roundtrip
Sights & Activities: Temple of Apollo, Archaeological Museum of Delphi, Ancient Theater of Delphi, Dome of Athena Pronea, Thermopylae, Hot Springs
Cost: From 250 EUR per person
Availability: Upon Request
Please read carefully our Terms & Conditions before booking.
#Delfi #History #AncientGreece #CentralGreece #History
What is included
Professional English speaking tour leader
Snacks & water
Private transfer in a 9 seat mini van (A/C, WiFi, leather seats)
Hotel pick up & drop off
Petrol, toll fees, parking fees & taxes
Admission fees
What is NOT included
Licensed English speaking professional guide inside the Archeological site
All meals and drinks (visiting local restaurants and food arrangements can be organised though without extra charges)
Travel Insurance
Flight tickets to/ from Athens (We strongly advise you to check www.swoodoo.com the best flight tickets search engine, for the best airfare deals.)
Whatever has not been mentioned clearly
Important notice
For your own personal safety & peace of mind be extremely aware of very low cost tours and offers. The companies offering them may be operating illegally.
Make sure that the tour company you select is registered under the Greek National Tourism Organization & Ministry of Tourism. All legally operating tour companies is mandatory to carry a license number.
Our GNTO NUMBER is: 1351E81000034001.