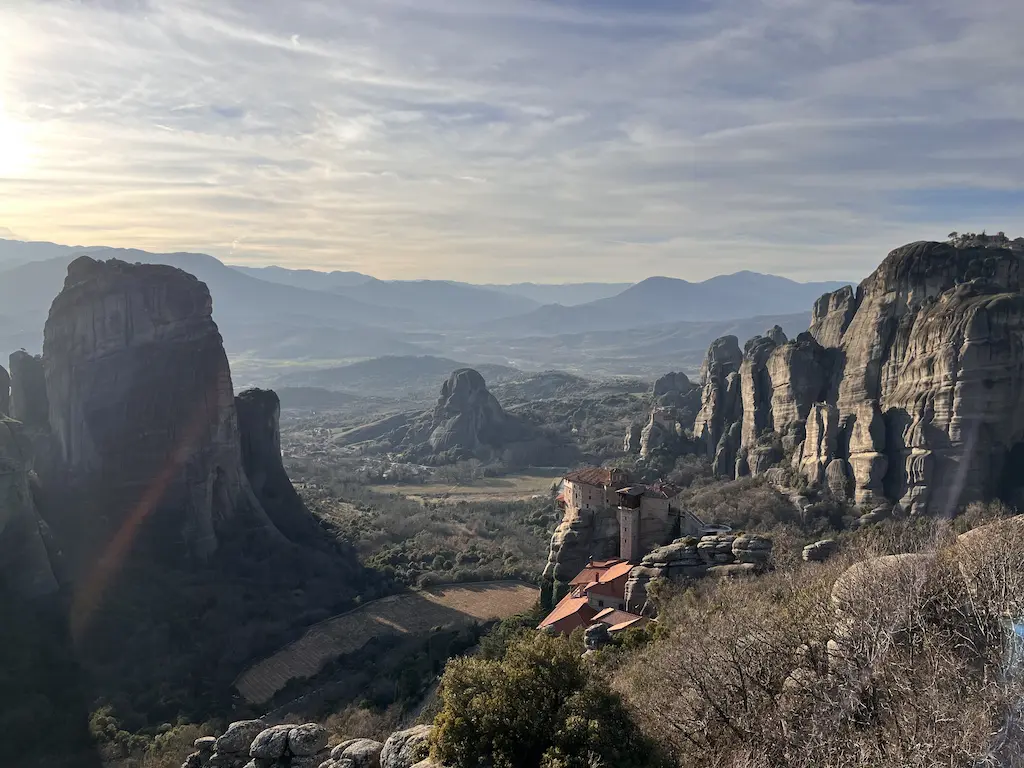 Meteora Monasteries Sunset.
The Meteora is a rock formation in central Greece hosting one of the largest and most precipitously built complexes of Eastern Orthodox monasteries.
Only second in terms of importance to Mount Athos, the complex of Eastern Orthodox monasteries that make up Meteora, are one of Greece's most popular and photogenic sights.
A huge complex of giant rock pillars that overlook the Plain of Thessaly, host a number of 14th-century monasteries built on the top of the sandstone cliffs centuries ago and create a truly surreal landscape.
Although they once numbered 24 in total, Meteora still has six functioning monasteries that are home to chapels, churches, and caves, as well as spectacular frescoes and very old religious treasures.
To visit the majestic monasteries of Meteora, visitors must climb up numerous stone steps cut into the rock while these narrow paths offer breathtaking views of the landscapes below.
An experience of Meteora monasteries sunsets offers a unique perspective of nature's glory combined with history, architecture, and man's neverending desire to connect with the Divine.
From the early Christian times, the cliffs of Meteora were regarded as a perfect place to acquire absolute isolation. A place for people to find peace and harmony and, thus, to support mankind's eternal struggle for spiritual ascension.
Meteora today is the largest archaeological site of Greece in terms of the area that it covers. It is also a UNESCO World Heritage Site since 1989 and an official holy place for Greece since 1995.
Type: Spiritual/ Recreation/ Adventure Tour
Suitability: Singles, Couples, Families, Groups
Location: Thessaly
Duration: 2 days/ 1 night
Length: app 750 km (465 miles) roundtrip (starting from your hotel in Athens)
Sights: Monastery of The Great Meteoron, Monastery of Varlaam, Monastery of Rousanou, Monastery of the Holy Trinity, Monastery of Saint Stephen
Cost: From 350 EUR per person for departures from Athens,
Availability: Upon Request
Please read carefully our Terms & Conditions before booking.
#Meteora #Spiritual #PrivateTour #Monasteries #NorthGreece #Christianity #Orthodox
What is included
Professional English speaking tour leader
Snacks & water
Private transfer in a 9 seat mini van (A/C, WiFi, leather seats)
Hotel pick up & drop off
Petrol, toll fees, parking fees & taxes
One night accommodation in Kalabaka
Licensed tour guide is not included but can be arranged with an extra charge (150 EUR)
Entrance fees to the monasteries
What is NOT included
All meals and drinks (visiting local restaurants and food arrangements can be organised though without extra charges)
Licensed english speaking professional tour guide
Travel Insurance
Flight tickets to/ from Athens/ Thessaloniki (We strongly advise you to check www.swoodoo.com the best flight tickets search engine, for the best airfare deals.)
Whatever has not been mentioned clearly
Important notice
For your own personal safety & peace of mind be extremely aware of very low cost tours and offers. The companies offering them may be operating illegally.
Make sure that the tour company you select is registered under the Greek National Tourism Organization & Ministry of Tourism. All legally operating tour companies is mandatory to carry a license number.
Our GNTO NUMBER is: 1351E81000034001.