Taxi in Athens: 5 Things to Know before You Go
Taxi in Athens can be an affordable, convenient & comfortable way to get around the city. This is actually true if you are organising a private transfer to and from the Athens International Airport, the port of Piraeus, the Kifisos Bus Central, if you just want a quick & safe way to get back to your hotel after a long day's sightseeing or even if you want a private tour around Athens with an experienced local.
Like in many other countries, taking a taxi in Athens can let you down & leave you subject to some of the worst scams in the country. Yet, this is not absolute! It is literally a matter of luck to get to experience the worst possible service or exactly the opposite. This is no different in Greece and especially in Athens, a capital of five million people and 12.000 licensed taxis.
The most popular car makes that are used as taxi in Athens are Skoda Octavia & Mercedes E-Class. Toyota Corolla, Toyota Avensis, Skoda Superb, Mercedes C-Class & Opel Vectra come second. All taxis in Athens are painted light yellow with a long dark blue stripe under the windows (starting from the bonnet to the boot).
1. Official Taxi Fares in Athens (as of October 2023)
As of October 2023, the below fares are the official taxi fares in Greece by law.
Starting fare: 1.80 EUR
Minimum fare: 4.00 EUR
Rate per Km Within City Limit: 0.90 EUR
Rate per Km Outside City Limits: 1.25 EUR
Waiting time per hour: 15 EUR
Pre-booking: 5,65 EUR
Baggages above 10kg/20 pounds: 0.39 EUR per item
What is more, the passenger is obliged to pay the toll fees, if any (unless a fixed price has been mutually agreed).
Always insist that the taxi driver turns the taximeter on. The taximeter is automatically connected to the cash register which issues the receipt. The final charge already includes a VAT (Value Added Tax) of 13% by law.
If the taximeter has not been switched on, don't be surprised if the taxi driver makes up a price on the spot.
For longer trips outside of the city of Athens, you can always bargain for a better deal which means that the taximeter will be off and the driver will manage to skip the VAT of 13%.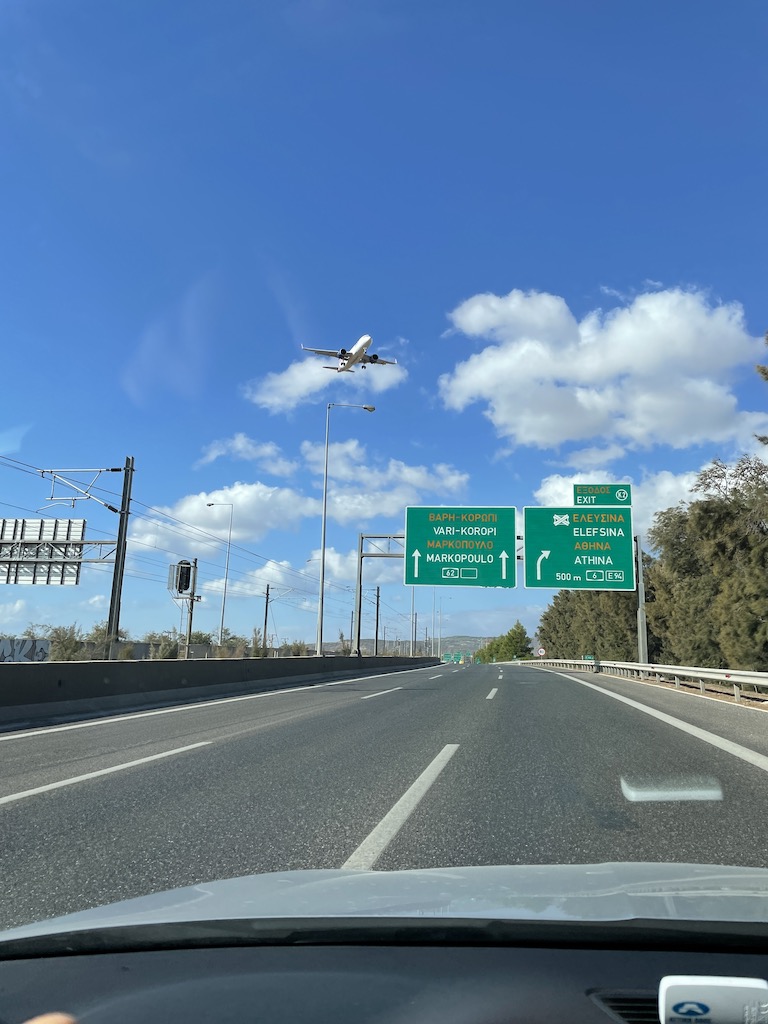 2. Tipping a Greek Taxi in Athens
While conventions can vary from country to country, tipping is customary in Greece. Tipping is expected – though not compulsory, and an expression of satisfaction & gratitude with the employees who have assisted you.
Tipping a taxi in Athens -and Greece in general- isn't expected or required, but if you want to do so, you can round up to the nearest euro and tell to your driver that you don't want the change. After all, the maximum tip in a Greek Taxi could be 5-10% of the final fare amount.
This primarily applies to the taxis you hail off the street. If you have a private driver that you have pre-booked and the service was exceptional, then the tip can vary and could be as generous as you want.
3. Using your Credit/ Debit Card to Pay or Tip
Under the Greek law, the installation of a Point of Sales (POS) or card terminal is not mandatory (as of October 2023). Hence, the vast majority of taxis in Athens do not have installed a terminal inside the vehicle. Yet, the taxi companies that organise airport transfers and private tours, like the The Greek Taxi, are equipped with card terminals and accept payments with bank cards and smartphones.
In any case, if you decide to use your card or smartphone to pay at a restaurant, bar, or a taxi in Athens, you always have the chance to tip extra your driver (or any service provider).
Bear in mind that tipping in this way may not end up in the pocket of the driver, but instead, it'll end up in the bank account of the business owner (unless they have an internal agreement).
If you want the employee to actually pocket the well deserved tip, then it is suggested to leave some cash to him or her, so you know they receive the appropriate credit for their hard work & great service.
4. Uber in Athens
If you're planning a trip to Greece and you are wondering if you can rely on Uber for transfers in Athens, Thessaloniki, Mykonos, Corfu and other touristic places, the correct answer is yes but it comes with several limitations.
While Uber operates in Greece since 2014, the service is currently available for licensed Greek Taxis (called UberTaxi) due to a court case back in 2018, which Uber eventually lost after having being challenged by the local Greek Taxi unions (SATA). Until then, Uber was employing about 1.300 non-professional drivers in Athens!
This means that the UberX service, which basically relies on non-professional drivers providing cheap transfer services, is not available in Athens (and Greece in general), and the drivers who are authorized to use the app are professional licensed Athens taxi drivers.
As a result, when you use Uber in Athens, you can expect the typical prices you would get in a regular Greek cab.
Overall, while Uber in Athens may not be as affordable as other locations, it still serves as a reliable option for transfers, airport pick ups, etc.
5. The Best Athens Taxi Smartphone App
Up until 2023, there is a considerable amount of Athens Taxi apps that aim to provide affordable, professional and comfortable transfers around the city as well as to and from the Athens International Airport Eleftherios Venizelos.
Apart from UBERTaxi, FREE NOW (formerly BEAT) is the most popular taxi app in Athens at the moment. All you have to do is download the app, enter your location and the desired destination and a taxi will be at your door in no time. You can pay either in cash or with a credit card and until recently you could even choose the driver you prefer based on their reviews, car type, and proximity to your location.
Welcome Pickups offers Athens Airport Transfers and Taxis services. Featuring different types of cars for small and larger groups as well as trained English-speaking drivers, Welcome Pickups is a great way for reaching your destination after arriving in Athens.
Taxi.gr is the newest addition in the Athens Taxi Apps wide range. Slick, fast, efficient, and really easy to use. It's a brand new ride-hailing app created by a Greek company with vast experience on taxis ownership and licences renting.
Another well-known Greek Taxi app in Athens is Taxiplon. With 1.140 cars operating in Attica and the countryside, Taxiplon serves about 10.000 passengers daily. You can book your taxi ride by telephone or apparently via the Taxiplon App.
Last but not least, the authentic Greek Taxi operates in Athens, Thessaloniki and Evia with a number of top rated professional english speaking drivers. We do own a wide range of vehicles such Mercedes E-Class sedans and station wagons as well as 9 seat mini vans like Mercedes Vito Tourer and Toyota Proace Verso.
Extra Hints:
In order to feel more comfortable and safe, it is always handy to have offline Google or Apple Maps downloaded at your smartphone. This way, you can check the route, your ETA and have a general understanding of the surroundings.
Smoking is not allowed by all means. It works both ways 😉 The driver could face a very steep fine in case of an official report. In case you are both smokers, then its all fine to smoke inside the cab.
Don't expect your driver to speak English unless you have pre-booked a private transfer to/ from the Athens International Airport.
At the worst case scenario you are experiencing a really bad service, you can file an official complaint at the Ministry of Tourism at touristcomplaints@mintour.gr or send an email at Greek National Tourism Organization at info@gnto.gr or send an email with the plate number at the Greek Traffic Police at dtroxat@hellenicpolice.gr or call the Greek Traffic Police at +302105284000.